Select an Article
[NOTE: Please visit http://www.potawatomi.org/government/legislative-branch/ and click under my photo for more recent columns]
December 2015
Bozho nikan/Hello friends,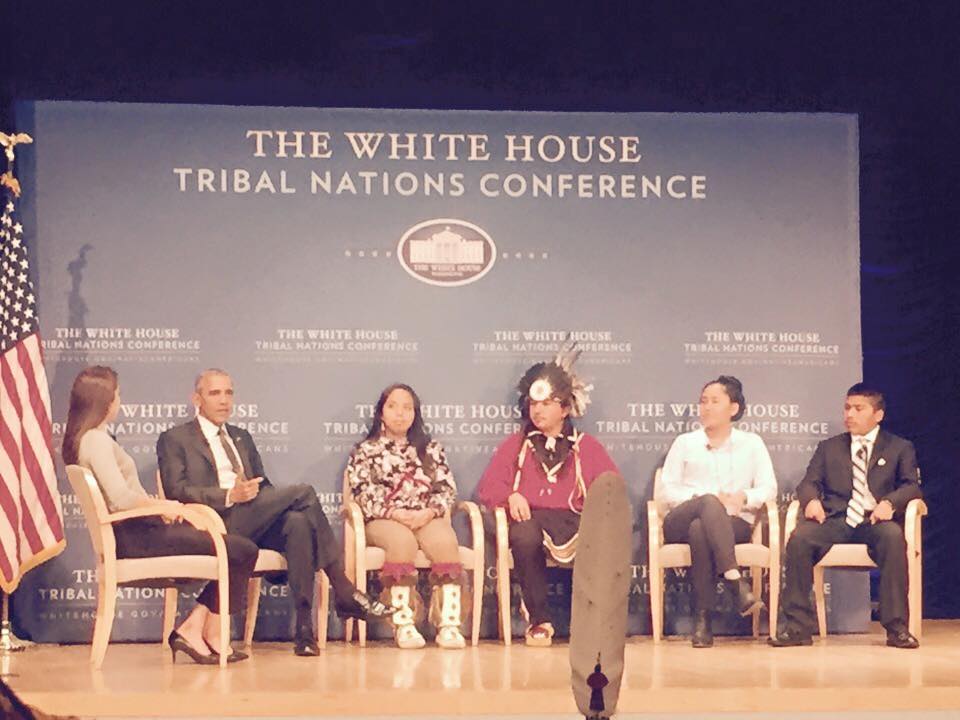 President Obama during armchair discussion with Native
youth during the 2015 White House Tribal Nations
Conference.
Fall Feast Report. I am writing in anticipation of combining forces with District #1 Legislator Roy Slavin for the annual Fall Feast. We moved the venue from the District #2 office downtown to a church hall to give us more elbow room for crafts and visiting and as I write this the RSVPs are still coming in, and final arrangements are on the horizon. I will include some photos in an upcoming column, on Facebook more immediately, and on my website (evamariecarney.com, under the Photos tab).
Menomen/Wild Rice. I contributed a menomen/wild rice dish to the Feast and, in line with our hereditary love for menomen, there were no leftovers! As Sheshebanyek (Duck People) our ancestors navigated the Northern waterways – where food grew on water -- and harvested wild rice. As noted on our Cultural Heritage website [potawatomiheritage.org], "Potawatomi referred to the transition from niben (summer) to dgwaget (fall) as Mnomnekégises (Ricing Moon). Throughout Ricing Moon, domesticated and wild plants began to bear fruit, motivating Potawatomi and other Neshnabek (Indian people) to migrate to their annual menomen camps for harvest. Considered a primary food staple, it was extensively traded among Algonquin tribes and foreign merchants. Aside from diet, menomen was used medicinally and spiritually in various ceremonies, as its therapeutic value aided in the remedy of burns, heart and stomach ailments." The wild rice I used for the recipe came from Wisconsin and was harvested by today's Ojibwa people. This could be a nice traditional addition to your holiday table.
MENOMEN/WILD RICE WITH MUSHROOMS AND ALMONDS (serves 6-8)
1 cup menomen/wild rice/ ¼ cup butter/ ½ cup slivered almonds/ 2 tablespoons snipped chives/ 8 ounces fresh mushrooms, cut in pieces/ 3 cups chicken broth
Wash and drain menomen/wild rice. Preheat oven to 325 degrees F. Melt butter in large skillet. Add rice, almonds, chives and mushrooms. Cook, stirring often, until almonds are golden brown, about 20 minutes. Pour rice mixture into ungreased 1 ½ quart casserole. Heat chicken broth to boiling and stir into rice mixture. Cover tightly. Bake about 1 ½ hours or until all liquid is absorbed and rice is tender and fluffs.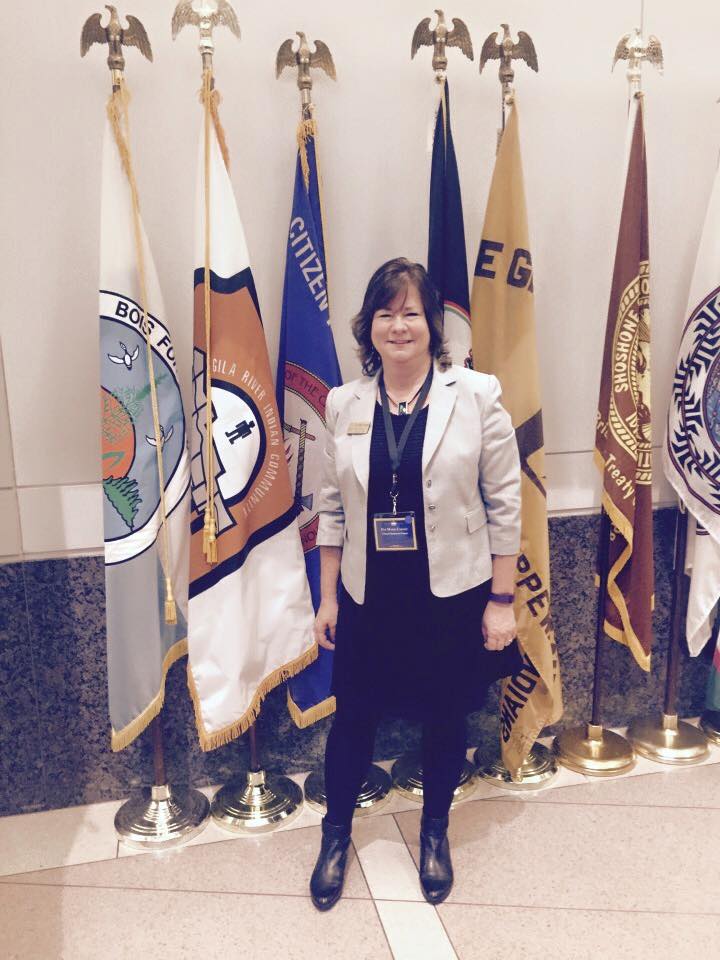 Posing before the White House Conference in front of
the Citizen Potawatomi Nation flag.


White House Native Nations Conference. It was a privilege again to represent the Nation at the annual White House Conference on November 5, 2015. I count this as one of the many benefits of living in the Washington, D.C. area –I'm grateful that the Chairman has decided that I should be the CPN citizen to attend this particular conference (only one representative per tribe is invited). This year there was a strong focus on youth, with quite a few, all impressive Native young people in attendance. The conference ended, in fact, with an armchair discussion hosted by the lovely Jude Schimmel (basketball duo, with her sister Shonni) during which the young participants posed questions to President Obama and all engaged in a lively and meaningful dialogue. The President's remarks and the youth panel with him can be viewed online via the White House website at http://tinyurl.com/o2xd783. I hope you'll take a look. Much of the conference focused on the strides made in our Trust relationship over the last seven plus years and on how to make those strides permanent while keeping up momentum. I have posted quite a few pictures to Facebook, available here: http://tinyurl.com/p7jg9uf, and include a couple with this column.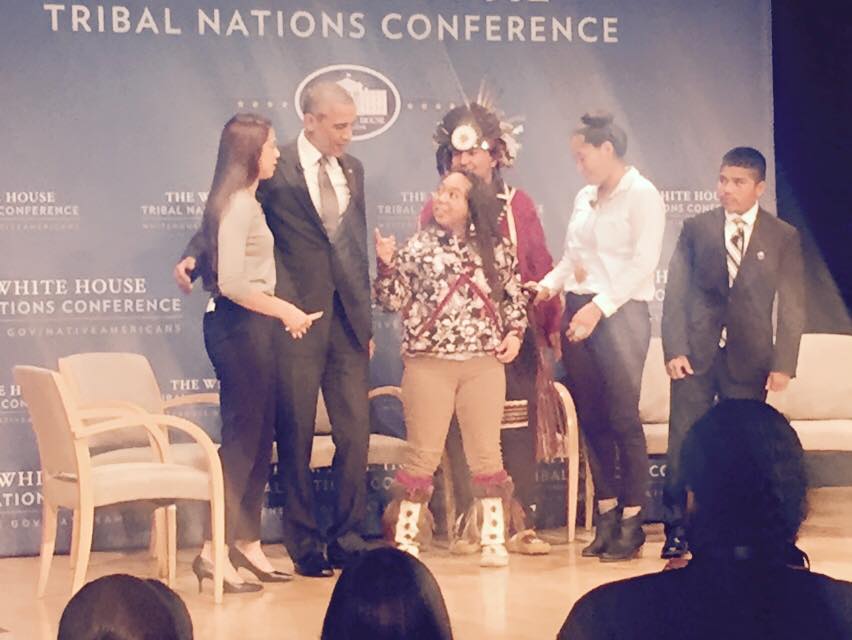 Post-armchair discussion camaraderie.
Don't Forget to Claim Your Holiday Gift. If you would like a copy of the Potawatomi Winter stories booklet I'm putting together for an end of year mailing, please contact me with your USPS mailing address. Please note that you don't have to live in District #2 to receive the gift, you just need to ask and provide your mailing address.
Migwetch/thank you for the great honor of representing you.
Legislator Eva Marie Carney/Ojindiskwe (Bluebirdwoman)
ecarney@potawatomi.org
CPN Legislative District #2
701 8th Street NW, #340
Washington, D.C. 20001
toll free 1-866-961-6988
Visit my website: evamariecarney.com